Canning Conveyor awarded ISO 9001:2015 Certification.
11th April 2017
Canning Conveyor is delighted to announce that they have been awarded the ISO 9001:2015 certification. It's a great achievement and shows the company's investment to increasing and maintaining levels of efficiency and productivity.
Canning has always prided itself on high levels of customer service and the quality of their products and bulk handling plant and equipment.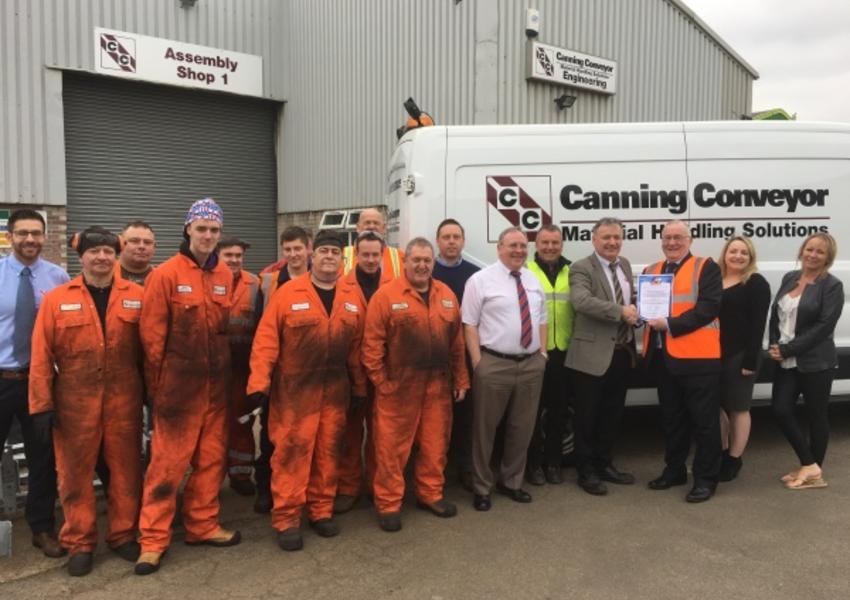 This new upgrade to ISO standards reinforces this and demonstrates their full commitment to their customers.
Alan Duffty, Certified Lead Auditor for QAS International commented, "Canning Conveyor are well versed in the understanding of quality management requirements, this was well demonstrated by all the staff I talked to. The systems in place are of a very high standard, this also applies to the engineering division which is well organised and supervised. Evidence gathered and witnessed is a great credit to the organisation."
"All members of staff have been made aware of the change from 9001:2008 and training is ongoing to ensure full compliance with 9001:2015."
Alan further commented, "Canning Conveyor is operating on two sites in the Worksop area; the most recent site houses the main engineering, design and development team. Time was spent at this site checking over the procedures to include design risk management, planning, drawing control and conceptual development. It is evident that they have a continuous improvement regime and a robust philosophy of design, process and procedure improvement regime."
Andrew Canning, Chairman & Managing Director said, "We are extremely proud of our team, who have worked hard to achieve this. This certification demonstrates how Canning Conveyor, both at our Sandy Lane site and at our Engineering factory at Dukeries Industrial Estate, both in Worksop, Nottinghamshire, is committed to quality and service, operating with commitment and compliance to quality standards – from receiving enquiries to processing, designing, manufacture and delivery of the design, manufacture & installation of bulk handling equipment including stocking and distribution of conveyor belting, rollers and ancillary equipment, providing the most comprehensive full range of products and services."