A physical theatre and new circus performance with an exceptional international cast, directed by Rostislav Novák and Vít Neznal, and with a unique set design consisting of a huge treadmill made to measure by us here in the UK at Canning Conveyor.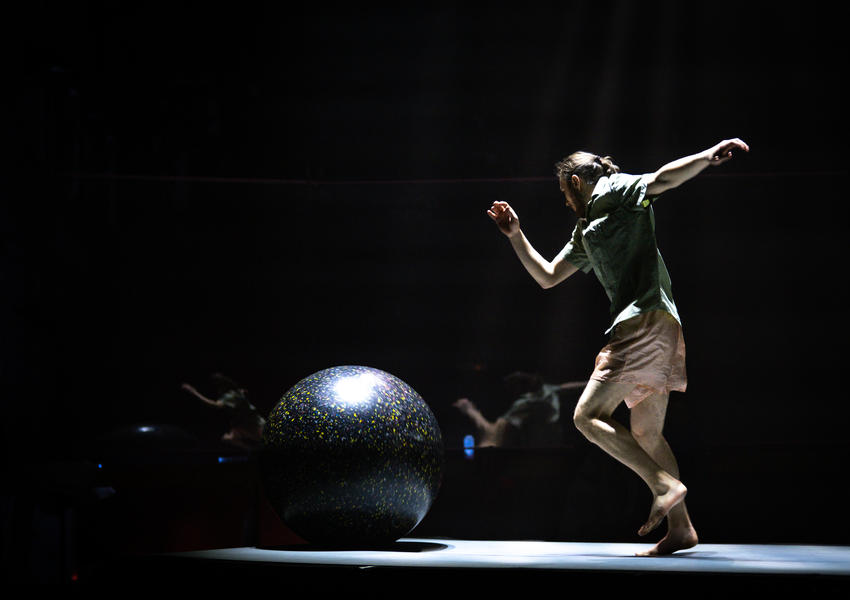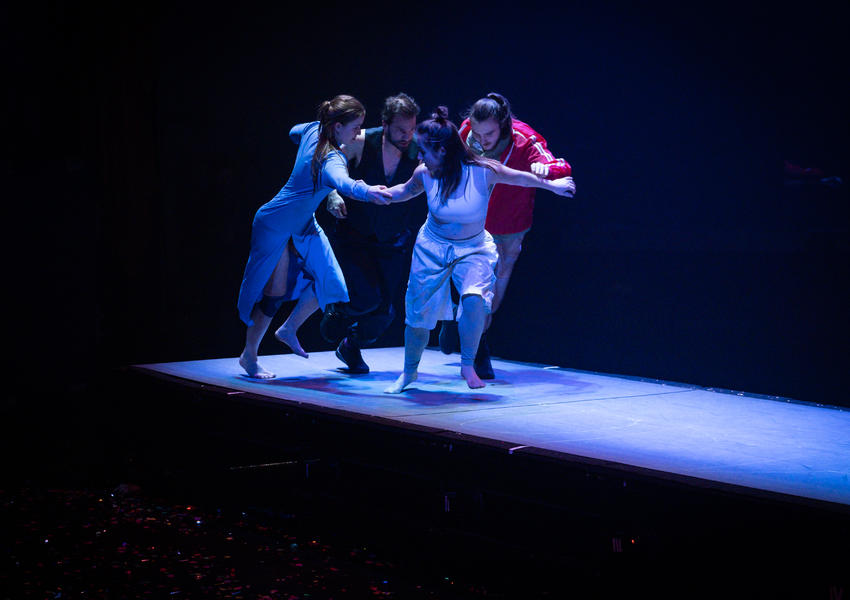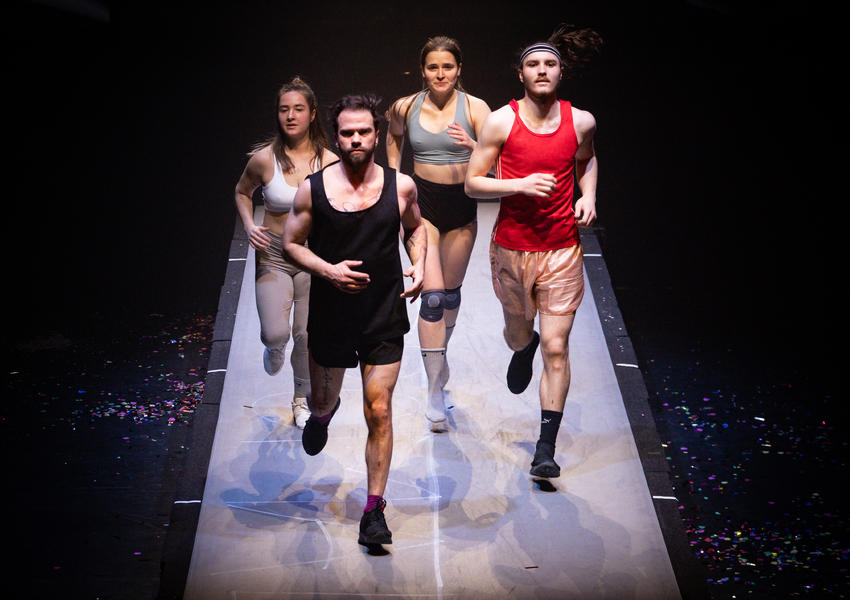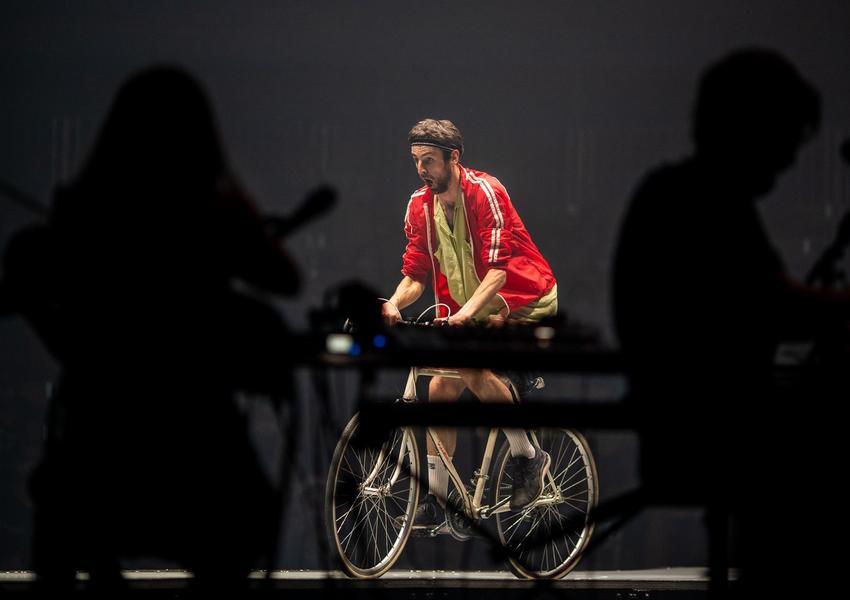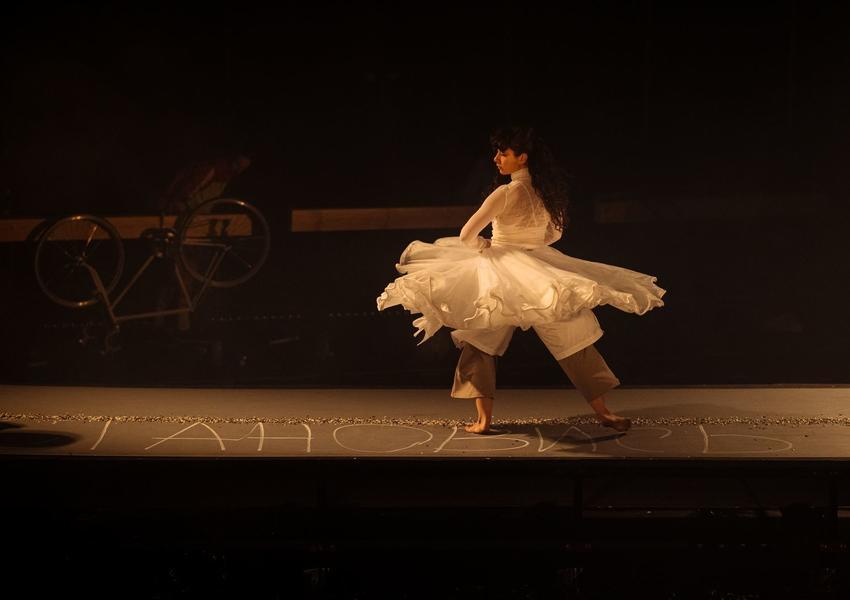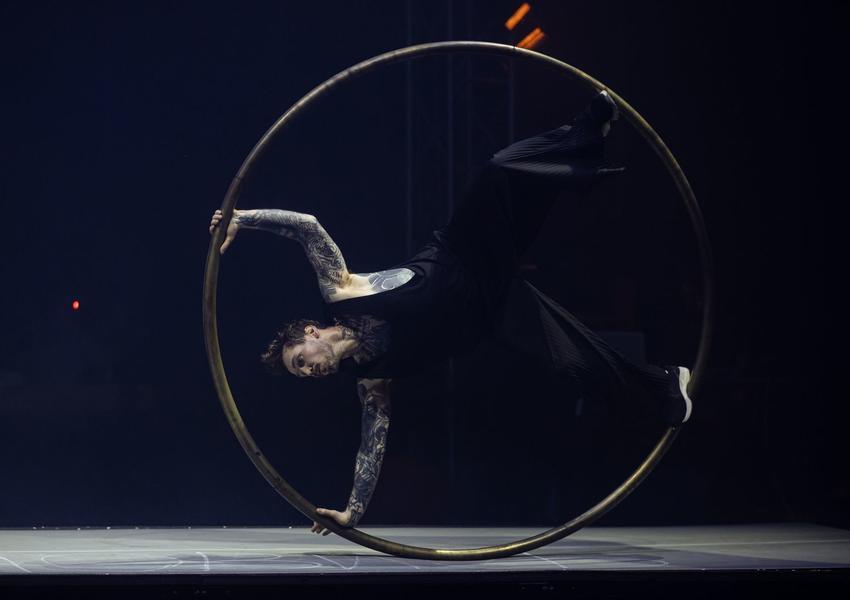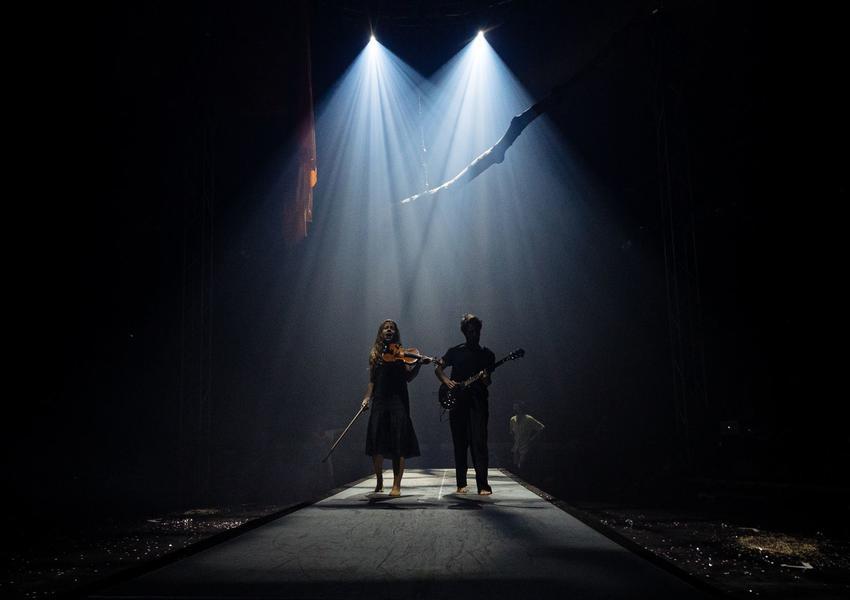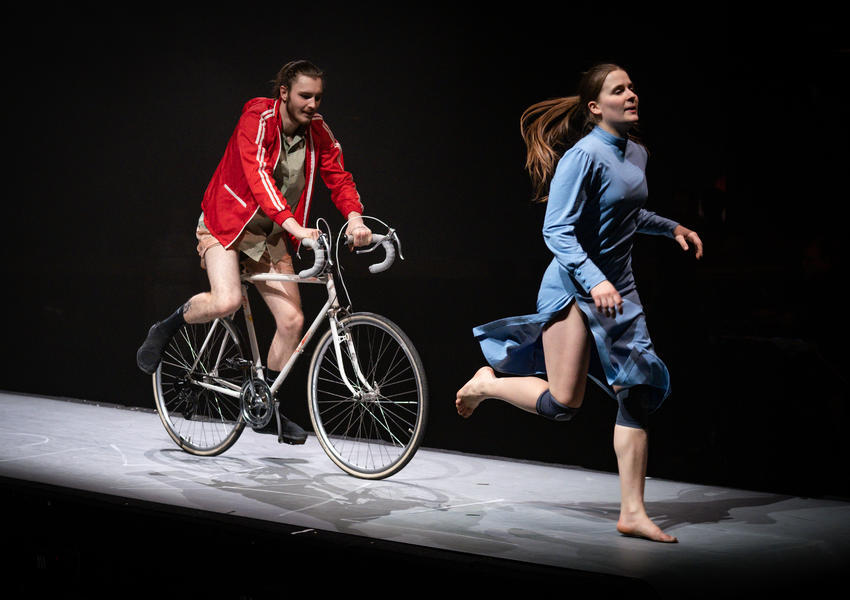 The production brings together American acrobat and longtime member of Cirk La Putyka, Ethan Law, winner of the Czech Dance Platform 2019 Viktor Černický, Tina Afiyan Breiová, who collaborated with world-famous directors (Roberto Olivan, Thomas Ryckewaert), and the breakthrough of the contemporary Czech dance scene Sabina Bočková, recently nominated for the shortlist of the prestigious Aerowaves festival. Live music by Veronika Linhartová and Jan Čtvrtník.

We try to catch everything and catch up with what we missed. It's not enough to be good, we have to be better tomorrow. Time - we want to be with it, but it overtook us long time ago. We can't stop, we can't sleep, we can't sit down, have a quiet cup of coffee and read at least one article from start to finish (this sentence is already long for you, isn't it). We have to run because we don't have time. We don't have time because it's still running. And getting it is a long distance run. A run in which endorphins are flushed into our bodies, so we love this lifestyle. We love it so much so that even though the pandemic has slowed down time, there are more runners all the time.
We had the privilege to meet up with CIRK LA PUTYKA early in February 2022 and also met all the production team and the artists who took part in 'The Runners' show held at Jaka78 basement & theatre in Prague during 2nd – 6th February 2022.
I must say, the artists were amazing and we thoroughly enjoyed watching the show, totally mesmerised from start to finish with the exceptional standard of acrobatics, artistry, performance and overall quality of this production. It was a credit to all the production team and crew of CIRK LA PYTYKA.
I highly recommend you book to go see this unique show and I can assure you that you won't be disappointed!
'The Runners' show will be on tour during 2022 in Europe. For more information and bookings visit the website www.laputyka.cz
............................................................................................................................................................................................
The Scotsman: Review:
Edinburgh Festival Fringe dance, physical theatre & circus reviews: Circus Abyssinia | Tomato | Runners
Sexy tomatoes, Ethiopian athletes and the granddaddy of all running machines feature in Kelly Apter's round-up of three fine circus and physical theatre shows on the Fringe
By Kelly Apter
Runners ****
Zoo Southside, until 28 August
After watching Cirk La Putyka's Runners, you'll never look at a gym treadmill in the same way again. The Czech company packed a lot into its suitcase before heading to this year's Fringe, including the granddaddy of all running machines. The enormous centrepiece moves continuously throughout the show, at varying speeds to match the performers' moods. Sometimes it's slow and contemplative, other times it's dizzyingly fast.
This could easily have been a full-on flips and tricks show, but Cirk La Putyka decided to take a different route. Instead, they walk up to the mic to impart short anecdotes from their lives and facts about modern life. The latter usually involves a quest for speed and often closes with the question "But why?". Why indeed?
At its heart, this show asks why so many of us rush through life at breakneck speed, but it also acknowledges the thrill of fast movement. Backed by two live musicians, who perform an intoxicating original score on keyboard, electric violin and voice, four circus artists put the treadmill to good use. Whether it's a beautifully lit dance sequence, robust running or something more comical and light-hearted, the performers are masters of the machine.
During one particularly thrilling scene, we hear the numbers one to nine shouted out loud, as the treadmill slowly picks up pace. On top of it, everyday activities are carried out – teeth brushing, taking a swig of water, writing in a notepad – until they're happening so fast, it's almost too perilous to watch.
If their ability to stand, dance, run and walk on the treadmill is impressive, then the arrival of a Cyr wheel and bicycle only up the ante. But it's perhaps the final scene, when they just run, pure and simple but with such resilience and determination, that truly grabs our hearts.
............................................................................................................................................................................................
The Guardian
Edinburgh festival 2022
Runners review – the treadmill of time, made flesh
Zoo Southside, Edinburgh

The Cirk La Putyka troupe interact on and around a giant treadmill through dance, music, acrobatics and dialogue in a moving exploration of time

Runners from Cirk La Putyka is a perfect fringe cocktail. It's a mixture of dance, music and circus centred on an improbable prop: a giant treadmill long enough to take a few strides, and just about wide enough to accommodate a few people if they squeeze together.
Four immediately likable dance and circus performers recount personal stories and reflect on the experience of time. How come, when you're speeding down a steep hill on your bike at the age of eight, everything becomes still? Why do we rush through everything in our adult lives? What does the blunt disruption of an injury mean for someone whose life revolves around the frantic speed of the circus?
Advertisement
These verbal musings morph into simple, committed physical illustrations on and off the treadmill. The performers push past each other on their way somewhere apparently important; the inevitable drag of the machine is resisted as though it were death itself; a technician toys with the treadmill's speed, testing the performers' resilience and creativity.
............................................................................................................................................................................................
The List Review
Hypnotic and dynamic metaphor for life all set on a treadmill

Roll up, roll up, for a circus show that's guaranteed to forever alter the way you see circuses. No clown-cars, bored lions or trapeze action here: Czech company Cirk La Putyka may be highly skilled performers but this is a much more artistically dynamic dance-piece than might be expected. Thoughtful, often beautiful and speaking the international language of kinetic 'wow', this largely non-verbal performance should appeal to anyone with imagination.

The talking point here is the runner itself: a long, large conveyor belt, big enough to hold the entire cast at once. They can sit, stand, run, jump and dance on it; as the show goes on, they can even ride a bicycle on it or turn cartwheels inside a hoop. Balls of all sizes and shapes are introduced, resembling planets as they spin magically above the belt.

If you've ever fancied riding the luggage carousel at the airport, then this one's for you. 'I'd always dreamed of being a human cannonball' remarks one performer who displays astonishing agility here. But Runnersis more than just a show-off physical theatre piece; it's a wonderful theatrical metaphor for life, the universe and everything, and which deservedly brought a standing ovation from a rapt audience.

There's something hypnotic as an optical illusion about the treadmill, and the gleeful abandon with which the performers fling themselves around. Runners is the definition of a break-out Fringe hit: it's dynamic to look at, has easy to grasp metaphorical strength and is as engaging as a live-action cartoon to watch.


Related Videos
'Runners' by Cirk La Putyka - Trailer …
Related News