Canning Conveyor lend a hand with the redevelopment at Guernsey Airport
8th October 2012
Canning Conveyor has recently supplied an aggregate conveying system for construction work on the redevelopment of Guernsey Airport.

With planning approval granted in October 2011 the £80 million contract, which is part of the Guernsey Airport Redevelopment Project, predominately includes the rehabilitation and reconstruction of the existing airfield pavements including the runway, apron and taxiways and the installation of a new surface water drainage system.

Commenced in January 2012 the project will take approximately 2 years to complete.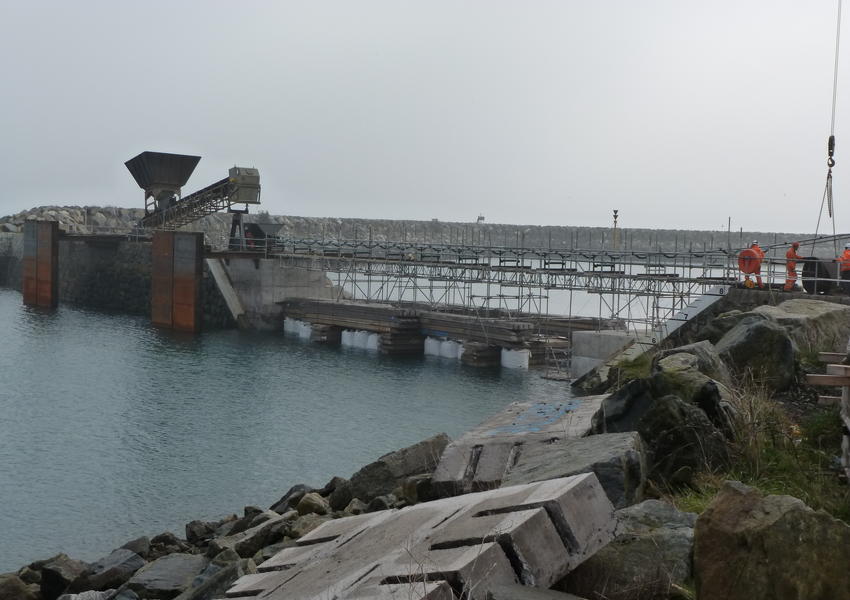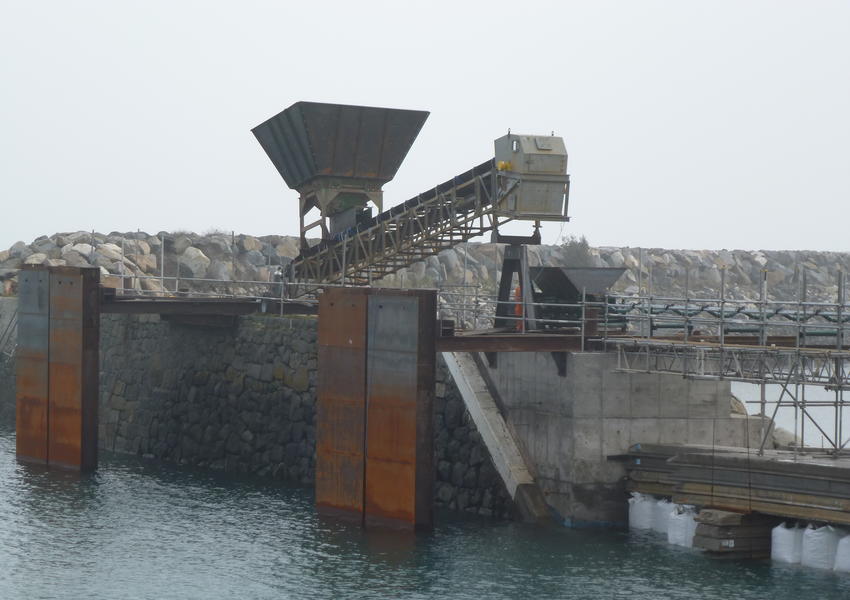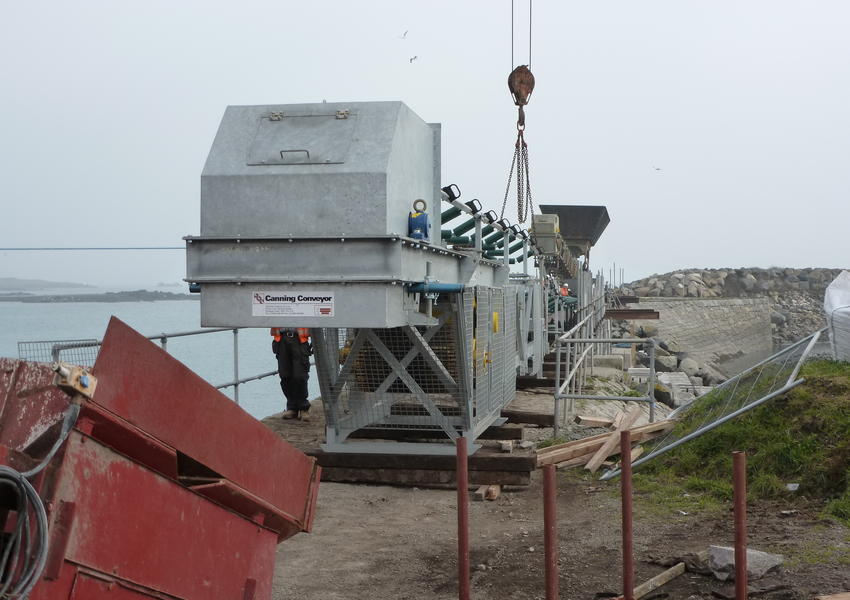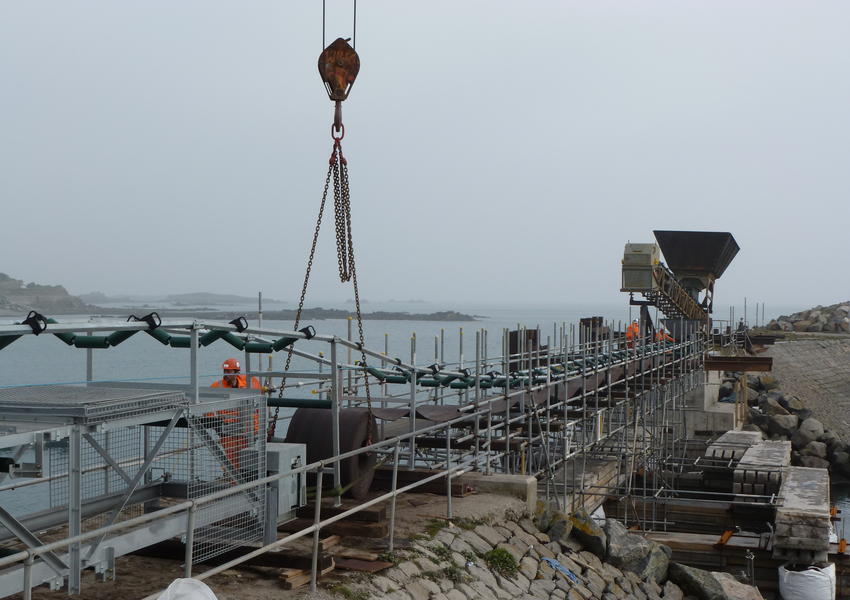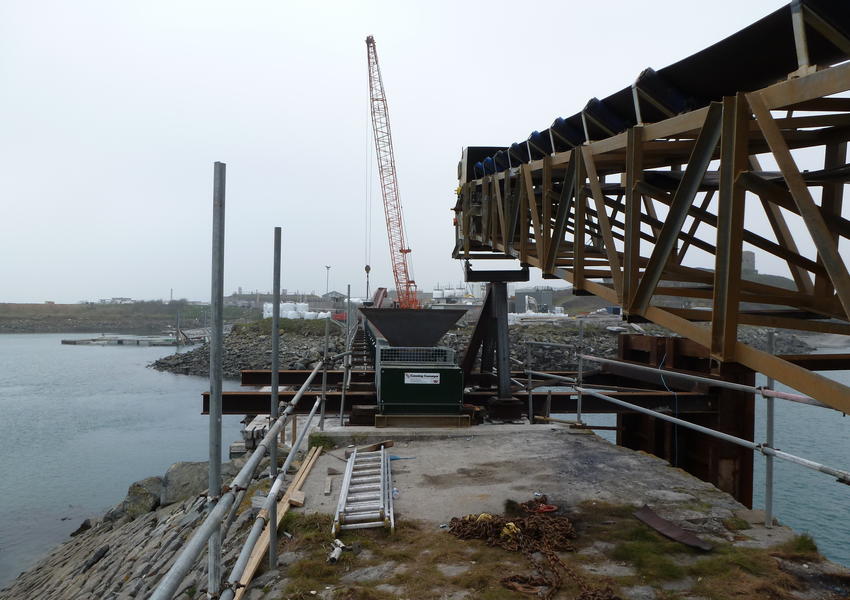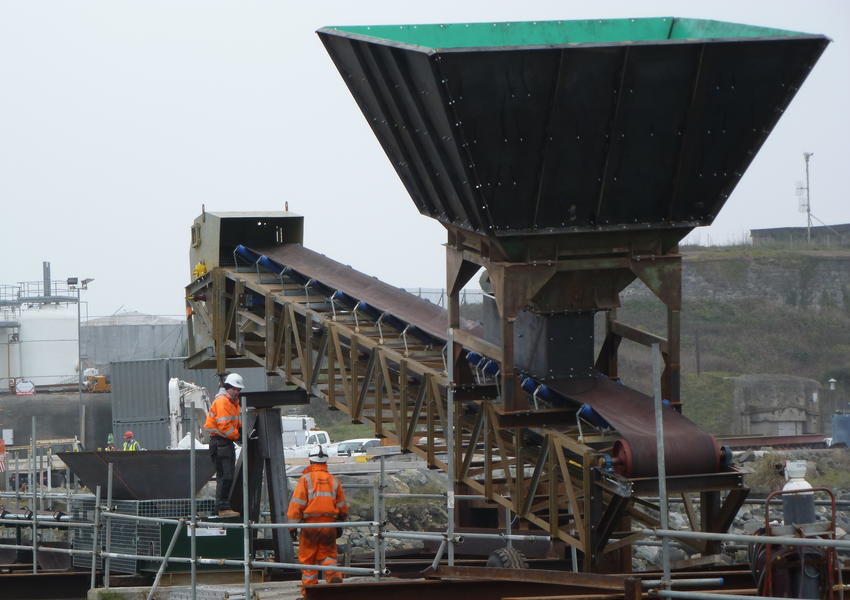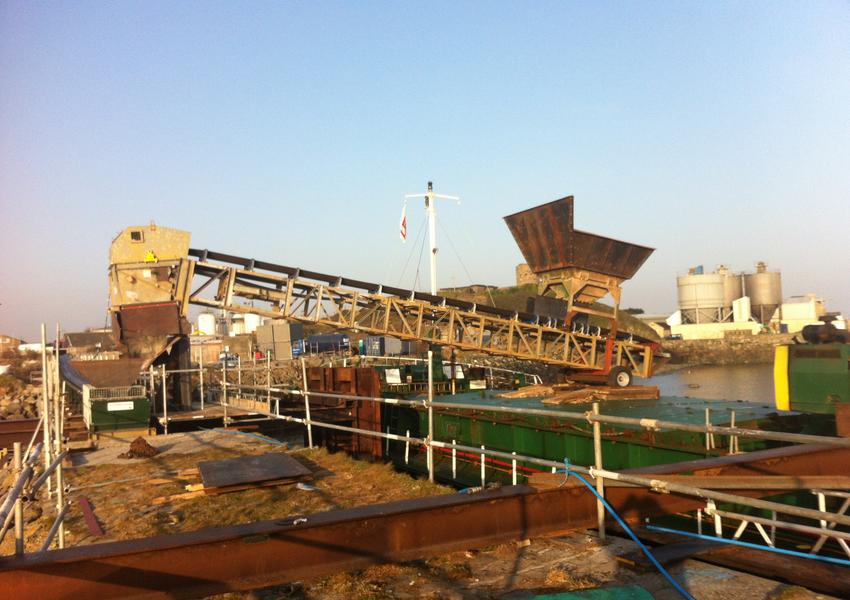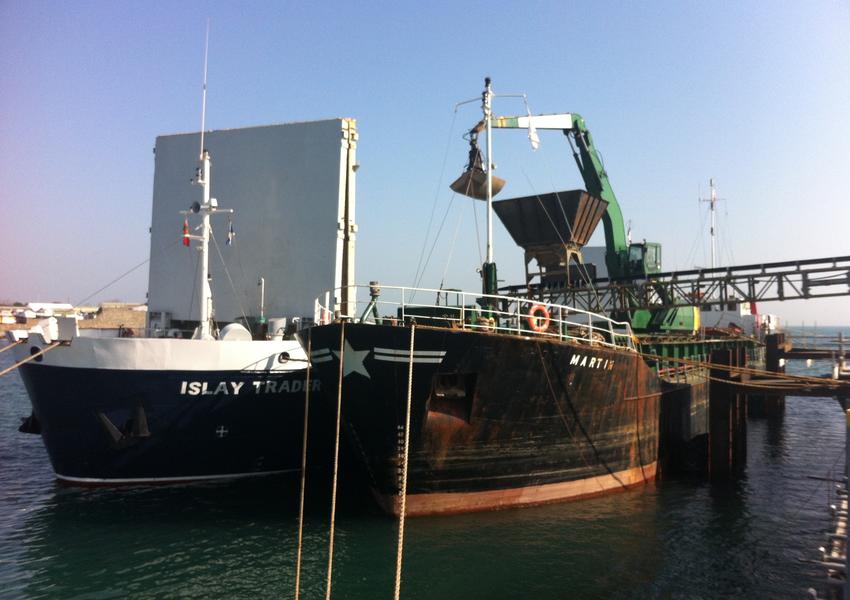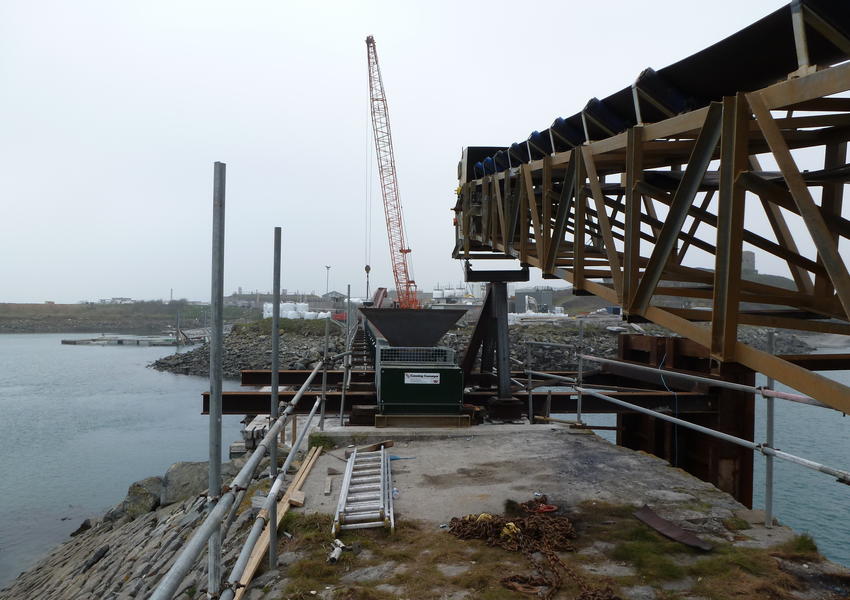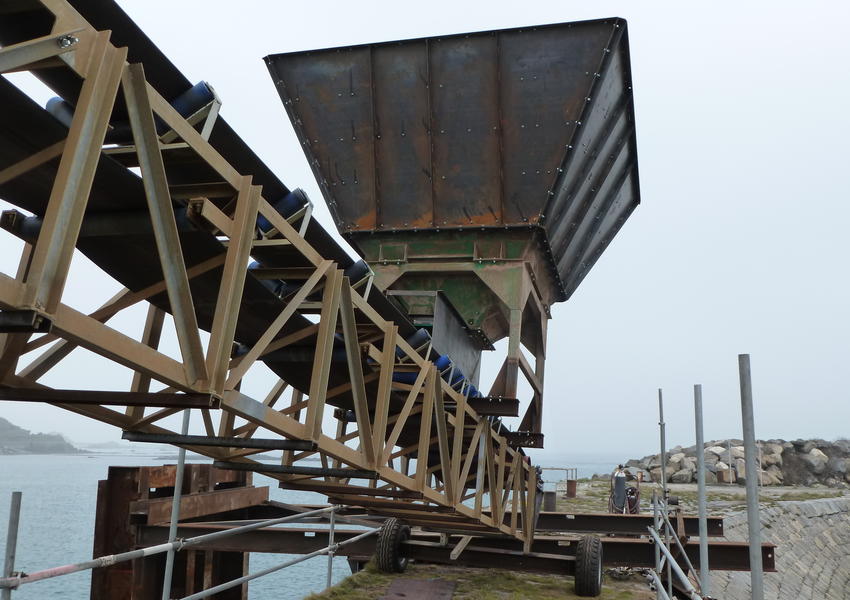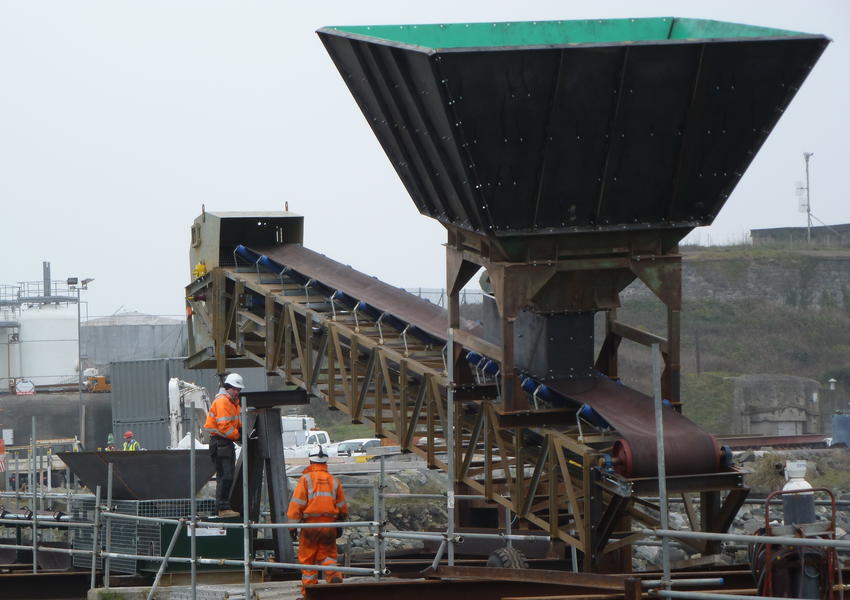 Bespoke System
The bespoke system which has been supplied on hire was designed and manufactured by Canning Conveyor for the sole purpose of conveying incoming aggregates from ships at Guernsey Docks.

Designed to accept 200tph of -20mm aggregates the system includes a conveyor mounted receiving hopper fed from a barge mounted 360° grab. Mounted centrally this hopper feeds material onto a 16 metre long, ship to shore conveyor.

This conveyor incorporates many unique features that deal with the rise and fall of the tide. The tail end of the conveyor is fitted with a pneumatic tyred wheel bogie which runs on the hatch cover of the ship; the head section being mounted on a support trestle para-bolted to a new concrete pad on the sea wall. This support trestle is fitted with a slewing and pivoting arrangement which allows the conveyor to rise and fall at the tail end with the tide. A further feature allows the tail to be lifted by the ship mounted grab and slewed around to rest on the sea wall at times of high wind or gales.

All aggregate is delivered from this conveyor onto a 50 metre long ground conveyor which runs horizontally on the quay side which then feeds into a receiving hopper on a 12 metre long stockpile conveyor. This stockpile conveyor which elevates to a height of 4 metres discharges into waiting dump trucks, or alternatively stockpiling material onto the ground.

Canning SuperDrive™
The ground conveyor is powered by a Canning SuperDrive™ motorized 22kW single drive drum which is designed specifically to power ground conveyors operating in these applications, having the motor, gearbox and bearings totally enclosed and hermetically sealed inside a steel shell drum.
With an impressive track record the Canning SuperDrive™ offers many benefits which include extremely low maintenance costs – (none, other than recommended synthetic oil change after 30,000 running hours) and a higher efficiency (97%) compared to approximately 85% on conventional drives.

The Canning SuperDrive™ single drive drum which provides a belt speed of 1.6 metres/sec to the ground conveyor is fitted with ceramic lagging and includes a high tension bend pulley, jib discharge drum, loop bend drum and a primary and secondary belt scraper. Complete with a discharge chute with integral crash box and hinged inspection hatch the entire unit is mounted on a substantial skid mounted frame with cantilevered jib discharge.

Along with a loop take up unit, heavy duty tail end loading section the conveyor structure is made up of Canning intermediate bays and Cannoflex belting throughout.

Designed and manufactured in the Canning workshops the system is providing an effective and reliable system for the construction of the airport in the handling of the incoming aggregate for this huge project.