Canning conveys the gold!
12th October 2012
Bulk materials handling plant & equipment specialist, Canning Conveyor of Worksop, Nottinghamshire has recently supplied two lattice framed constructed, trough belt conveyors for a project which involved a major upgrade in production capacity from 6.25 to 8.5 million tonnes/annum at the Lefa Gold Mine in Guinea, West Africa.

The bespoke conveying equipment has been installed under the eye of project engineer Malcolm Hope of Regal Mineral Solutions of Bracknell, UK, who has over 40 years' experience in feasibility and due diligence studies and the design of processing plants and infrastructure for gold production.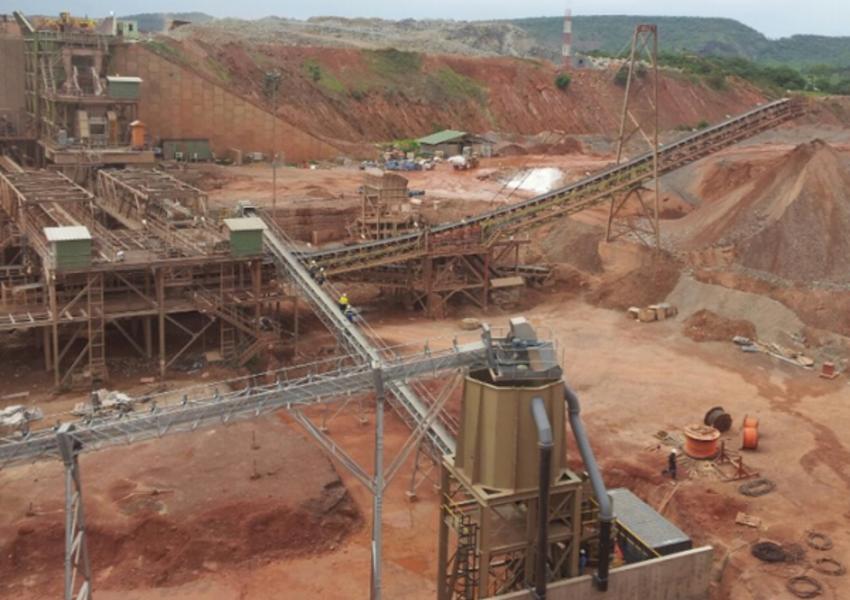 Pebbles Crushing Circuit Conveyors
Two conveyors were supplied, the first designed to accept 217 tonnes/hr of -50mm quartz bearing gold ore from a feed conveyor situated at ground level. This 65 metre long conveyor elevates at approximately 12°before discharging into a pebble crusher surge bin.

The second conveyor at 48 metres in length was designed to accept up to 215 tonnes/hr of -13mm quartz bearing gold ore from a crusher situated at ground level, and elevates at approximately 13° before discharging into a two way chute. From the two way chute the crushed pebbles report to either of the mines SAG Mills via existing conveyors.
Both conveyors, designed and built at the Canning workshops were constructed in heavy duty lattice frame sections with support trestles and included a galvanised expanded metal walkway with access stairs at the tail end. Canning also supplied a gravity take-up arrangement which was situated adjacent to one of the trestle supports, complete with a 3 metre high perimeter mesh guard surround.

Driven by 22kW motors with internal backstop and torque limiting device which provides a belt speed of 1.25 metres/sec each conveyor was specified with a 530mm diameter crown faced drive drum with 12mm thick diamond pattern rubber lagging and included snub, crown faced tail, gravity take up and parallel gravity bend drums.

The scope of supply also included vee-ploughs and primary and secondary belt scrapers, all of which were fully guarded in accordance with current legislation.
An emergency stop pull wire system to all accessible areas with emergency stop buttons at the head and tail ends completed the specification with an over length (for site vulcanising) quantity of 600mm wide 'Cannoflex' EP500/3 ply belting with 5mm + 2mm rubber covers.

Good performance
Malcolm Hope – Project Engineer, commented, "Both conveyors that were supplied by Canning have performed faultlessly since commissioning; the client is very pleased with now complete Pebble Crushing Circuit."