Canning supply overland conveyor system for Sibelco at Godstone.
27th March 2017
Owned and operated by Sibelco, sand extraction and processing operations have been carried out in the area for 50 years; the operations cover three quarries adjacent to each other running from east to west.
Sibelco was founded in 1872, initially supplying silica sand from deposits in Flanders to Belgium's major glass producers. Its association with the clay industry stretches back even further, with their UK operations producing world-renowned ball clay in the south west of England for over 300 years.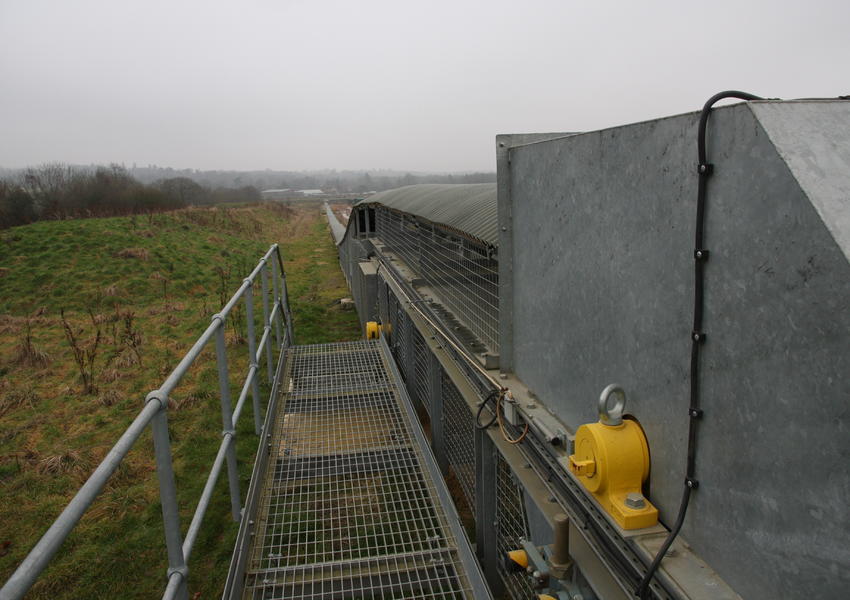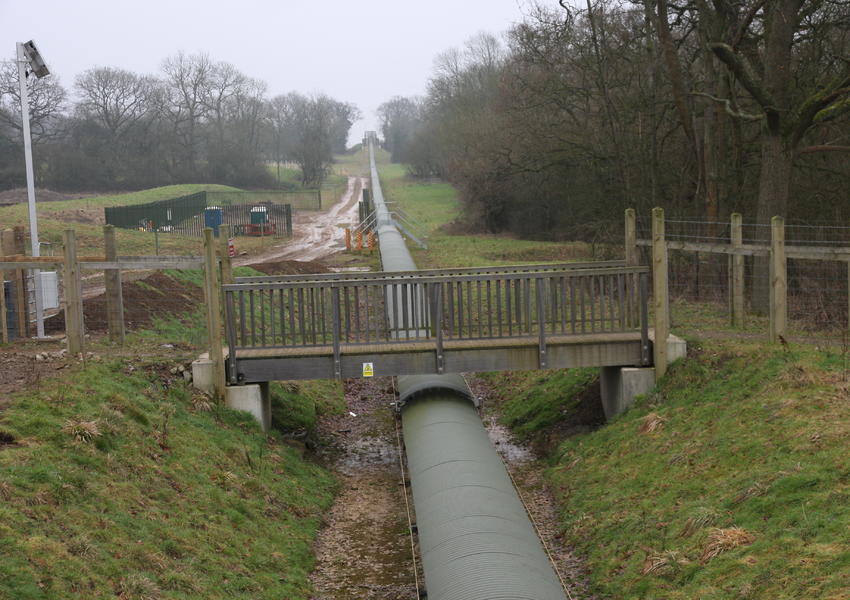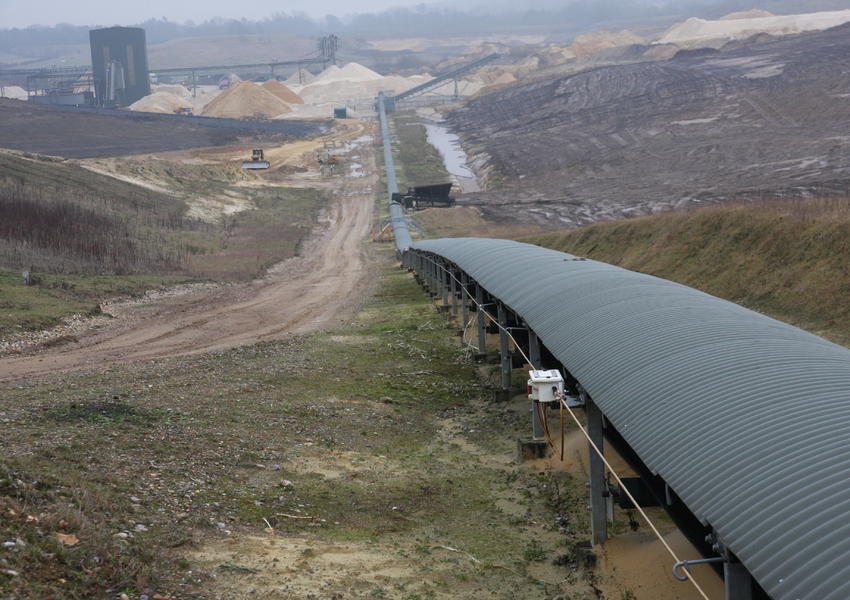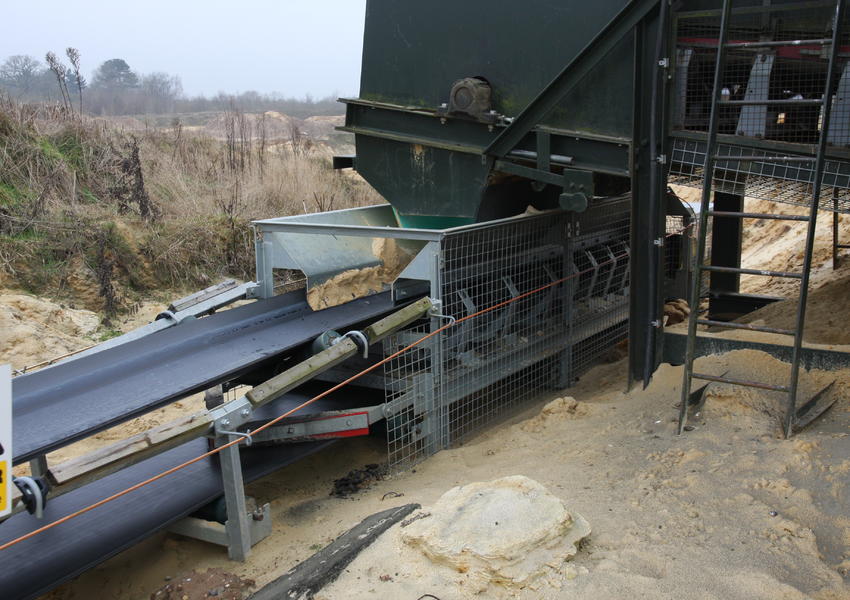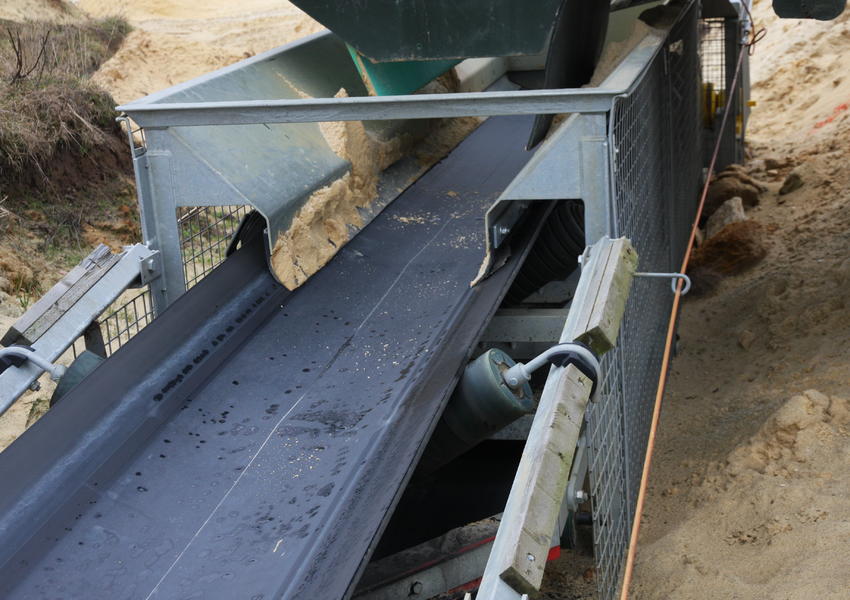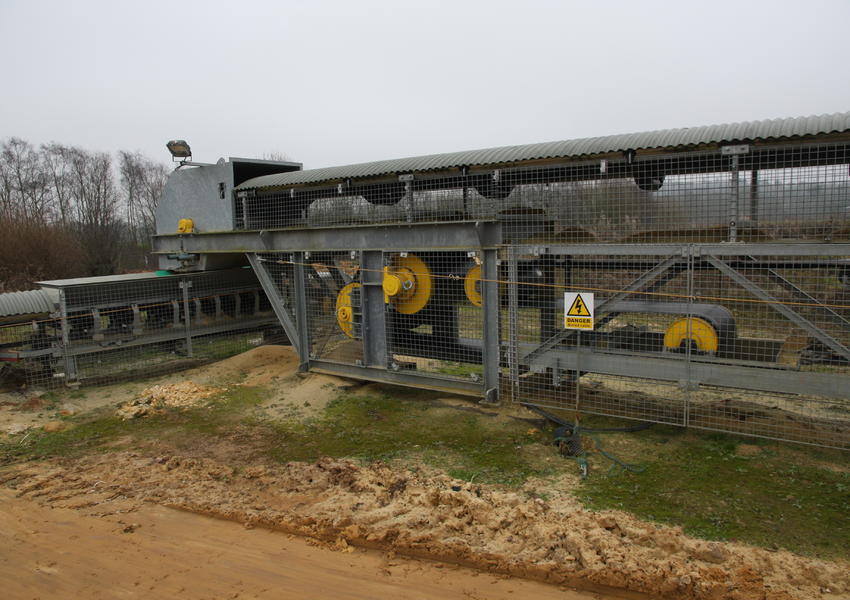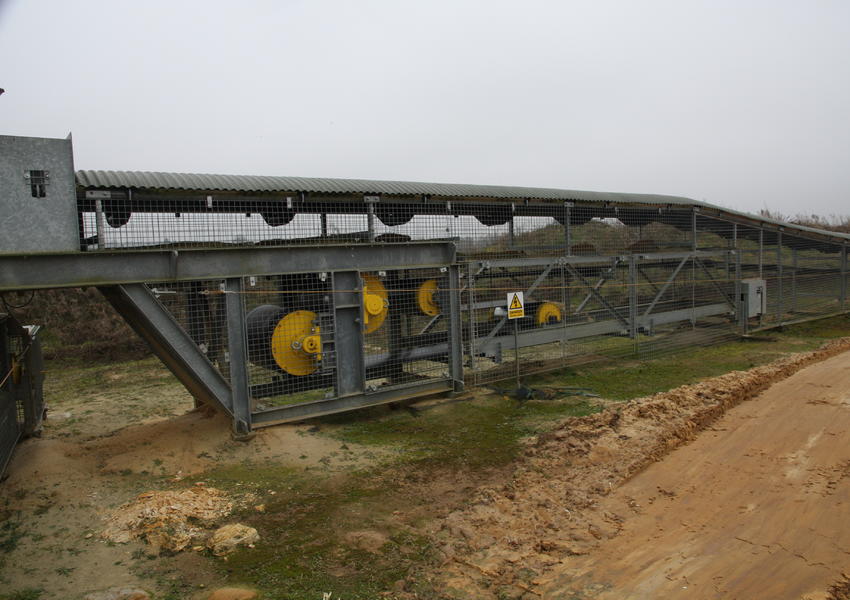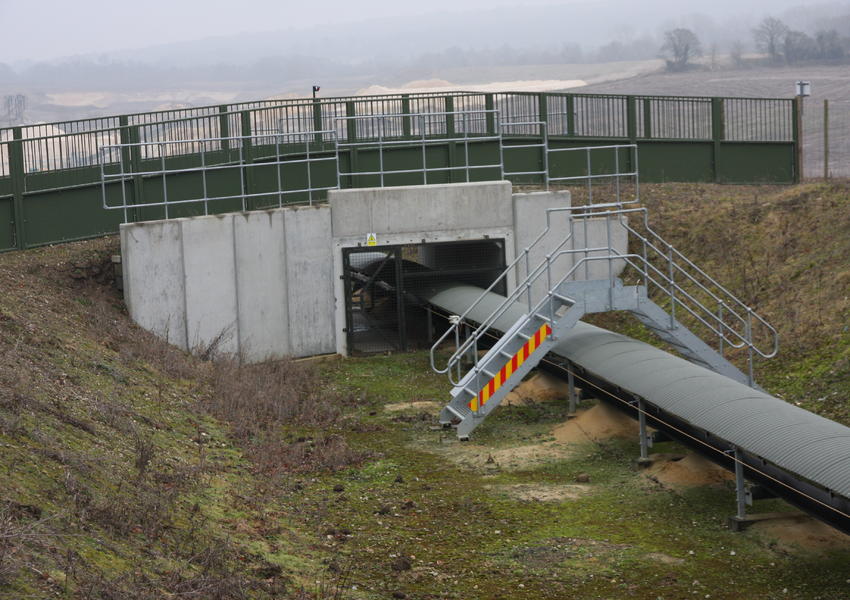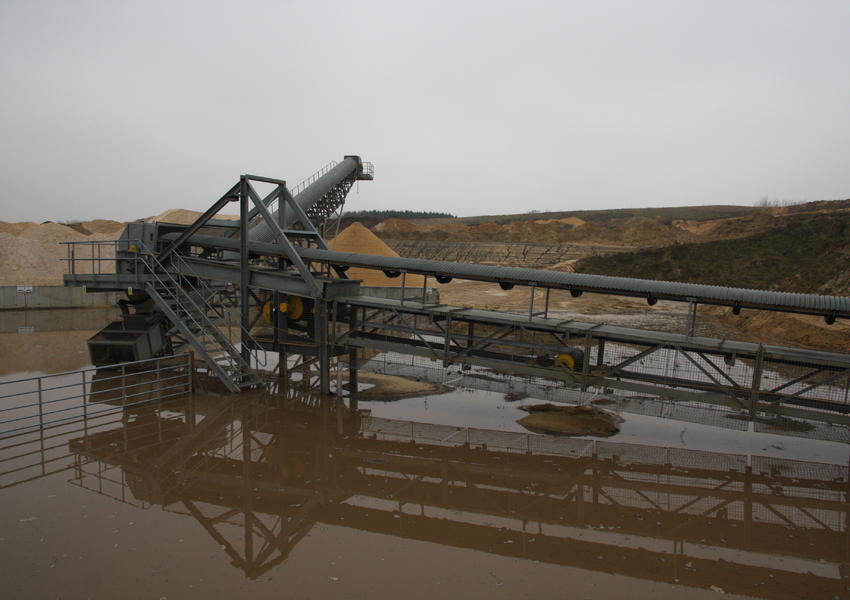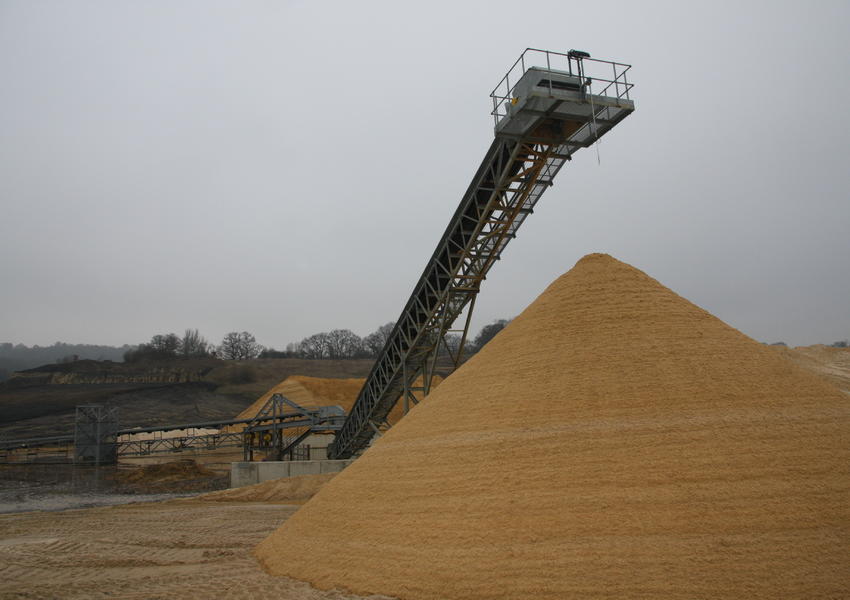 Today, Sibelco supplies a vast portfolio of specialist minerals for use in a wide range of industries and applications. At Godstone, which is one of the company's newer operations, the deposit (Lower Greensand Folkstone Beds are to be found under the North Sea) consists of industrial silica sand which is suitable for specialist end uses such as glass and sodium silicate manufacture. The coarser or finer co-products are sold into the sports, equestrian and horticultural markets with building sand forming no more than 20 per cent of the output. Minerals are currently being extracted at a rate of up to 600,000tpa to 2m above the groundwater table.
The history of sand quarrying in the area is quite prolific dating back to the middle ages when the sand was mined under Reigate. The current processing operation at Godstone is being dug in three areas – North Park Quarry, The Horseshoe and Pendell Quarry with restoration on-going when an area has expired.
Glynn Roberts – Quarry Manager, commented," all our sand is sold to either other Sibelco operations, bagging plants and/or companies throughout the UK as demand is high as our end products are of a very high quality.
The conveyor system:
Located in the Vale of Holmesdale under the North Downs the installation of the conveyor system not only had to take into consideration public footpaths through the renowned beauty spot, but also cross a main road en-route to the washplant.
The decision to install a conveyor system was made because of the effectiveness of the transportation of the sand and gravel by conveyor, against the alternative of loading dump trucks with the consequent negative effects on the environment in terms of noise and pollution.
Having researched the market for a suitable manufacturer, Canning Conveyor was invited to tender for the complete project and was subsequently successful in their bid to design, manufacture and install a complete conveyor system which is just under 2 miles in length.
The system is designed to accept up to 350tph of -150mm of sand and gravel.
Dug material is deposited into the hopper/feeder by loading shovel which feeds onto a 290m long x 750mm wide troughed belt conveyor C3. This conveyor includes a Canning 'SuperDrive' jib head powered by a single drum motorised drive fitted with ceramic lagging. Built on a substantial frame the unit consists of a discharge drum, primary and secondary belt scrapers and a discharge chute with integral crash box and inspection hatch. Material from this conveyor is fed by a cantilevered jib discharge onto the second conveyor C2 angled at 90◦ to conveyor C3; this is 275m long and again includes a Canning 'SuperDrive' jib head driven by a single drum motorised drive drum fitted with ceramic lagging and specification as conveyor C3.
At the end of conveyor C2 the system turns 90◦ onto the final 1200m long conveyor C1 which elevates to a rise of 20m crossing over a road by a lattice bridge (by others) before dropping back down by approximately 20m, en-route to the stockpile.
This conveyor also includes a Canning 'SuperDrive' jib head driven by a double-drum motorised drive drum fitted with ceramic lagging with a specification as previous; conveyor C1 also includes a single idler belt weigher fitted into the head unit with a local digital readout.
At the end of conveyor C1 material is then fed onto a 38m long radial stockpile of lattice frame construction which elevates at approximately 15◦ before discharging onto a 10m high kidney shaped stockpile to ground, 180◦ radius.
The whole system includes a full length Davis Derby emergency stop pull wire system mounted on both sides and plastisol coated curved corrugated steel covers.
The specification also includes Canning intermediate bays consisting of high density polymer suspended idler sets and parallel return rollers.
The whole system was installed and commissioned by Canning engineers within the allotted schedule.
Glynn, further commented, "It's a very important asset for us, so the quality of build and the reliability of the system was very important and although I wasn't present when the system was installed it has operated without issues since installation."
Canning 'SuperDrive'
As well as being accepted as the market leader the Canning 'SuperDrive' jib head provides the confidence of a three-year warranty and is supplied ready filled with synthetic oil and requires no maintenance other than the recommended oil change. With normal oil a change is required every 10,000 hours and oil seal change every 30,000 hours giving almost 5 years between oil changes based on an 8-hour day working week. However, by using synthetic oil in this application the service life between oil changes has been increased to 30,000 hours or 14 years.