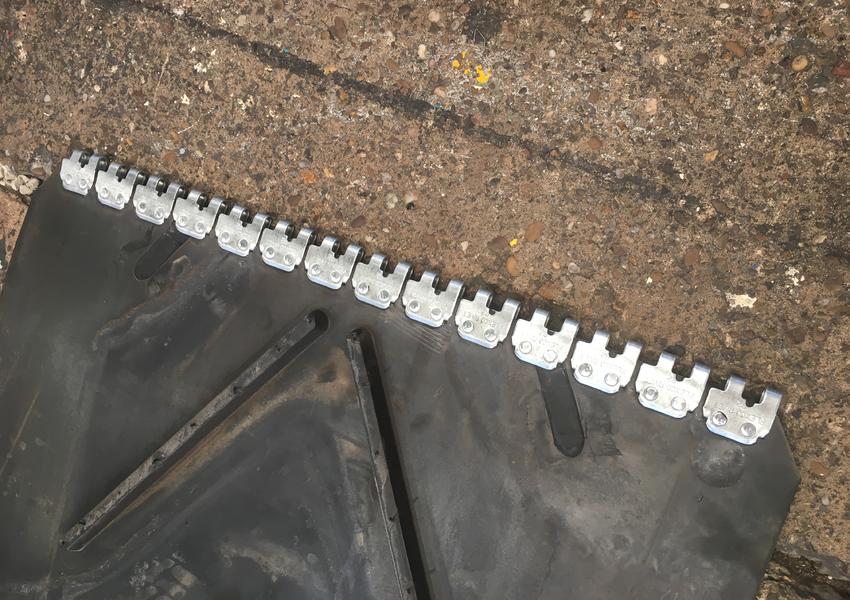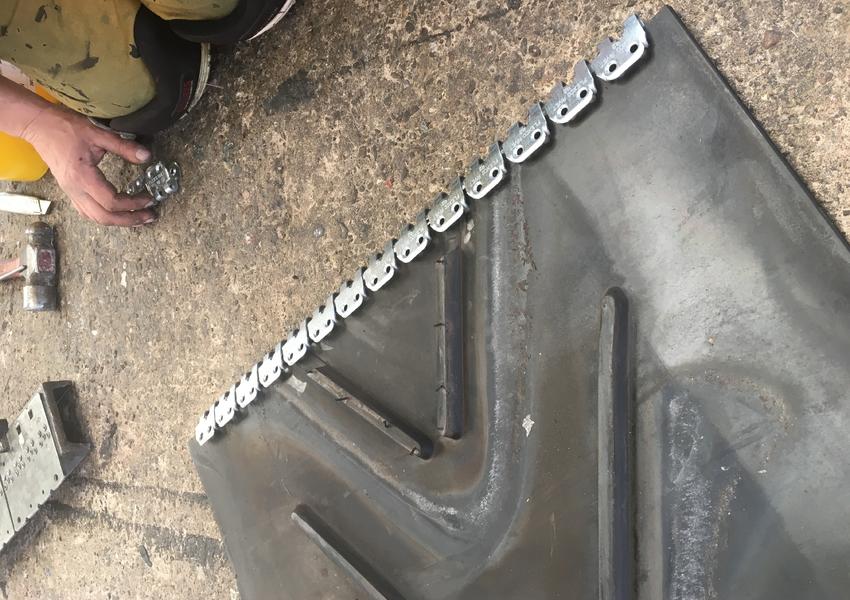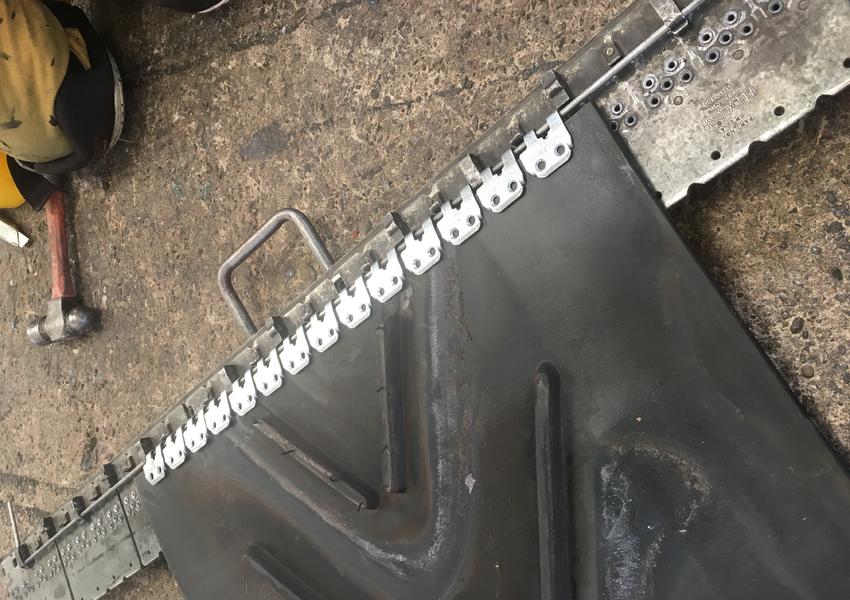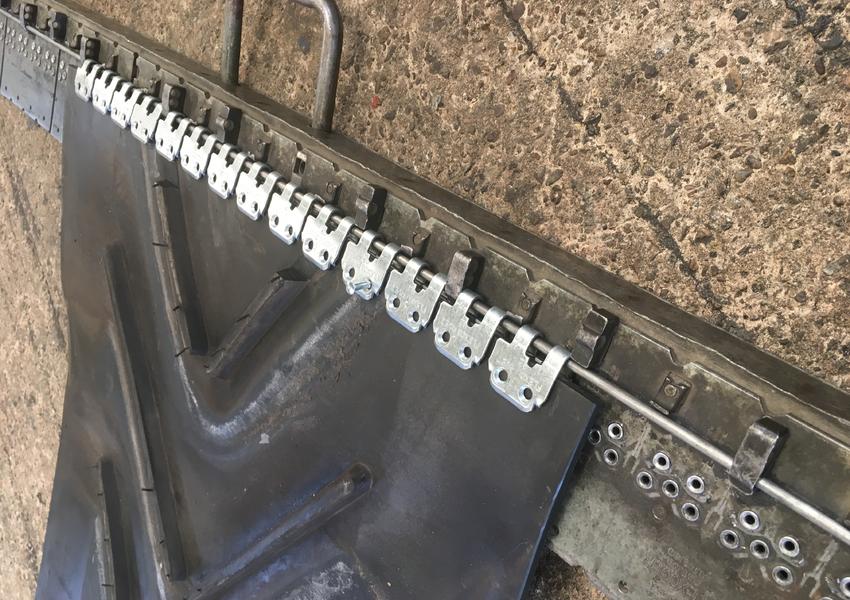 We provide a variety of belt conveyor products including the Alligator® Staple Fastening System, Flexco® Bolt Solid Plate fasteners and the Flexco® SR™ scalloped edge™ fastener.
Related parts
ALLIGATOR® Staple Fastening System
How Alligator® Ready Set™ Staple Fasteners work

Designed for light and medium duty synthetic carcass belting, the Alligator® Staple fastener utilizes high tensile, stainless steel staple attachment, in conjuction with an extended plate design.

This design separates the point of fastener penetration from the line of belt flexing to eliminate splice fatigue at the point of belt attachment.

Staple fasteners are furnished in strips with a bridge between each fastener plate. This strip design minimizes the chance of individual parts dislodging into the conveyed product.

The one piece design provides a stronger splice, greater resistance to impact damage, and a smoother, unrippled joint that simplifies hinge pin insertion.

Staples are hammer driven through the fastener and belt, working between the carcass fibers without severing them. The staples are then clinched cross-wise to the belt, so that belt tension does not pull against the staples to unclinch them.

Applications:
Package and Parts Handling
Cased Goods
Food
Wood
Agricultural Products


Installation method:

A portable, lightweight application tool is easily carried to the job for on-site installation. The tool holds belt and fastener while staples are set with a hammer and a staple driver.

What you need for installation:
Fasteners
Hinge Pin
Installation Tool
Staple Driver
1 lb Hammer
How to specify the correct Alligator® staple fastener
Determine belt tension (kN/m).
Measure your belt thickness.
Measure the Diameter of the smallest pulley in your drive with belt wrap more than 90°.
Hinge Pin Selection:
NC Nylon Covered Steel Cable -for use with steel fasteners, flat or troughed belts.
NCS Nylon Covered Stainless Steel Cable - for applications with stainless fasteners, flat or troughed belts.
SP Steel Spring Wire - for use with steel fasteners in abrasive or gritty material applications, flat belts only.
SS Stainless Steel Spring Wire - for use with stainless fasteners, flat belts only.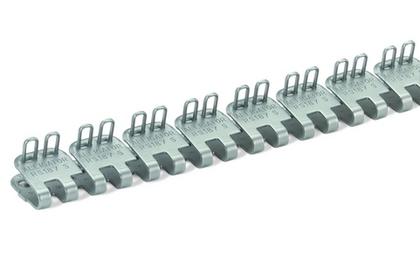 Flexco® Bolt Solid Plate fasteners are engineered to meet the demands of the toughest material handling applications, providing a strong sift-free splice and superior holding ability. A choice of sizes accommodates belts from 3/16" (5 mm) to over 15/16" (24 mm) thick.
High strength

High strength is the result of superior design and plate compression on both the top and bottom sides of the belt. High tensile strength bolts compress top and bottom plates to distribute splice tension evenly across the entire width of each fastener plate. For added strength and pull-out resistance, specially formed teeth penetrate deep into the belt carcass - without damaging carcass fibers.

Easy installation

Field-proven templets, punches, and boring tools make it easy to quickly and accurately prepare belts for fastener installation. Fasteners are easily installed on-site using portable hand tools or power tools. Our exclusive piloted bolts also contribute to faster installation.

Market applications:
Sand
Gravel
Crushed stone
Grain
Coal
Cement
Salt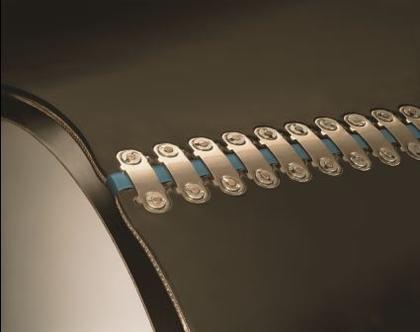 The Flexco® SR™ scalloped edge™ fastener features a low profile that significantly reduces the fastener's exposure to cleaner blades, skirt rubber, and return idlers. Reduced wear and tear on the fastener extends the life of the splice to maximize belt availability and to help keep productivity on a roll.
Improved Performance:

Designed for rubber plied and PVC solid woven belting, and for worn belts unfit for vulcanized splices, the Flexco SR fastener features a patented scalloped edge design. The scalloped design contributes to improved fastener profile resulting in increased compatibility with belt cleaners and improved cleaner-tip wear. The staggered rivet pattern also provides maximum holding ability by allowing the rivets to pass betweeen the carcass fibers without damaging them.

A built-in viewport simplifies fastener positioning with self-setting rivets installed from the top side of the belt for faster installation.
Market applications:
Coal
Wood Processing
Asphalt Plants
Construction and Road Equipment