Canning SuperDrive™ was launched with the new modular ground conveyor bays as part of the 40th Anniversary of the company, during 2005 at the Worksop premises.

The SuperDrive™ Jib Head Unit is designed specifically to power ground conveyors operating in open pit & quarrying / extraction applications having the motor, gearbox and bearings totally enclosed and hermetically sealed inside a steel shell drum.

The SuperDrive™ has already an impressive track record with high profile installations at numerous locations throughout the country and these are now reaping the benefits & rewards of the SuperDrive™ system.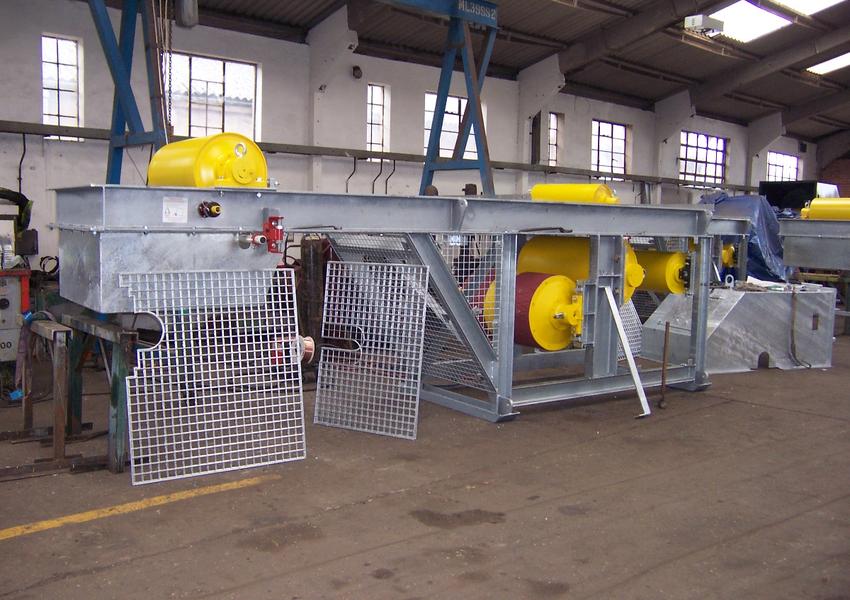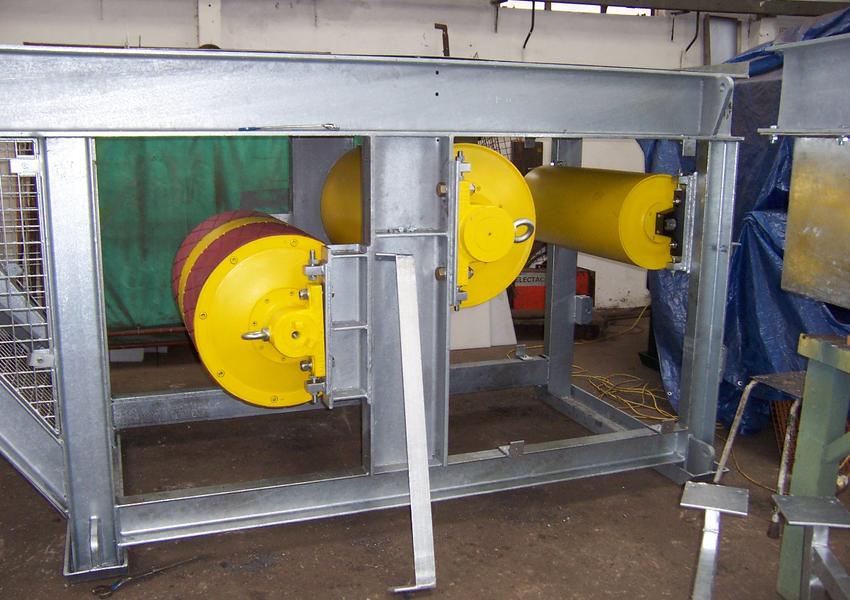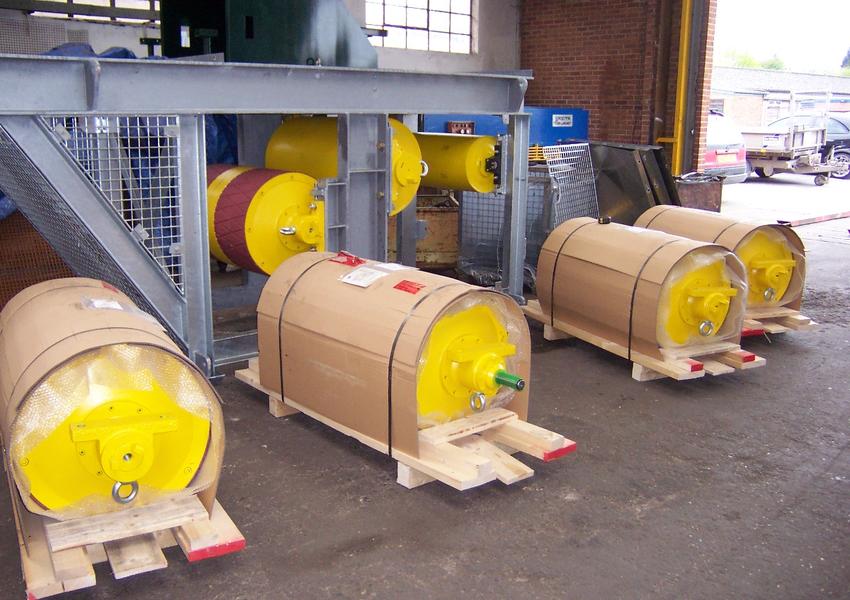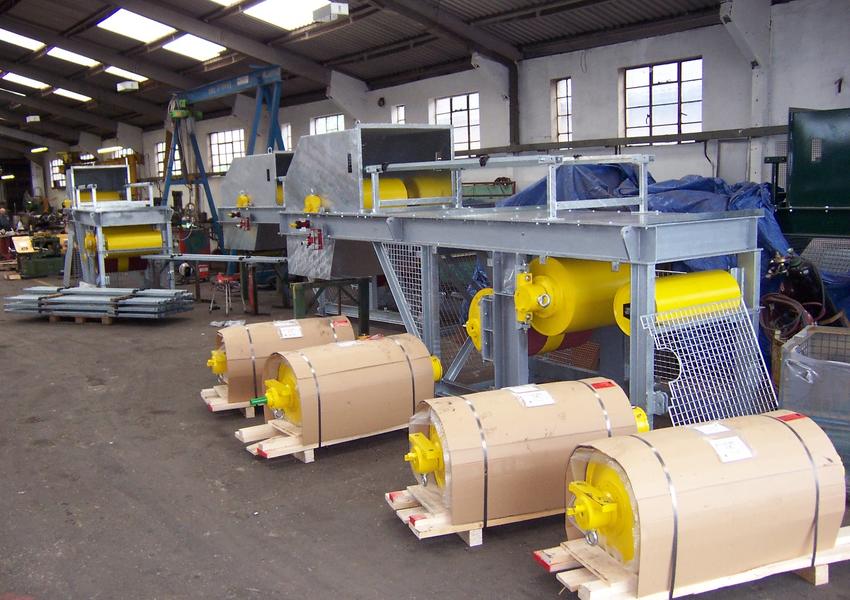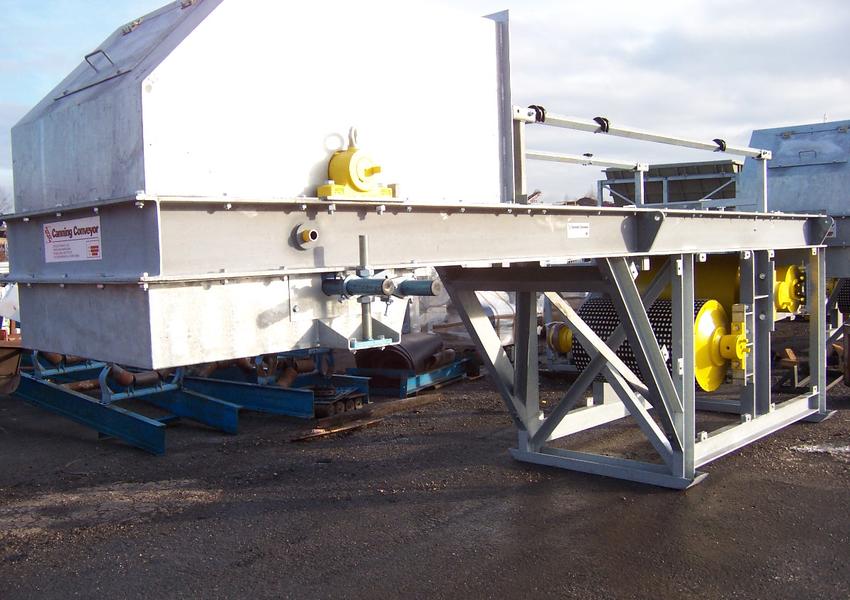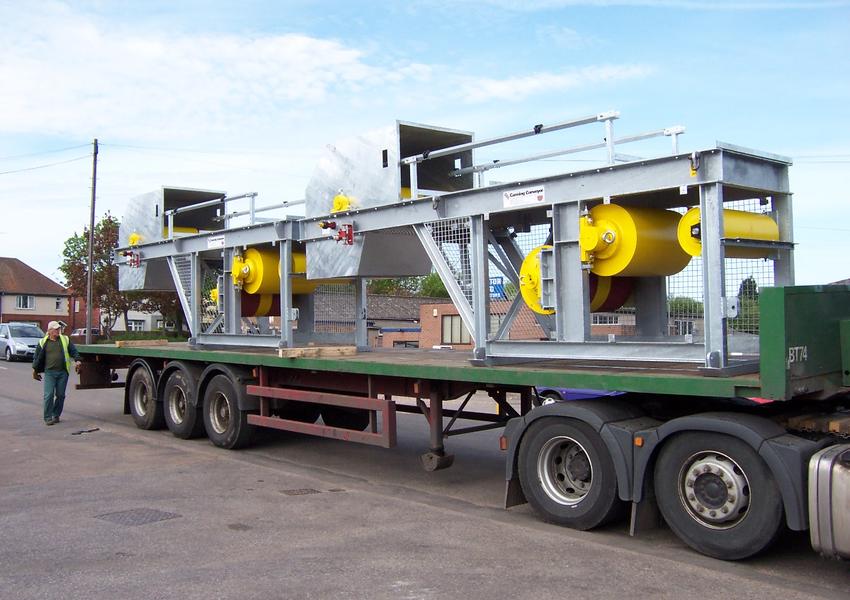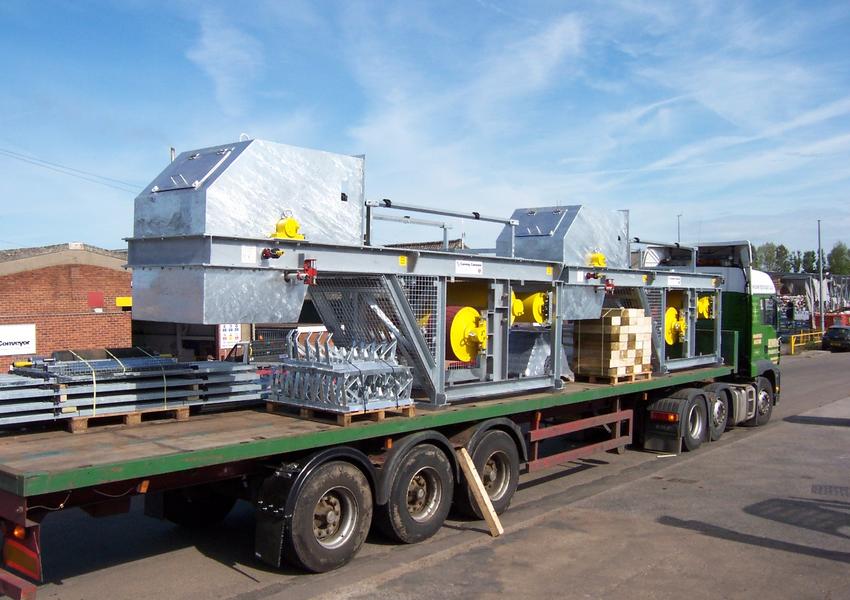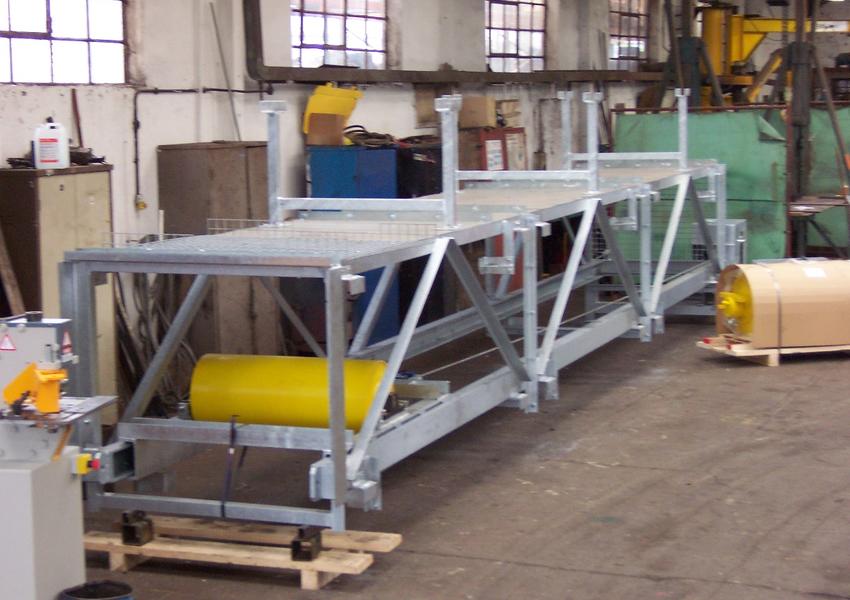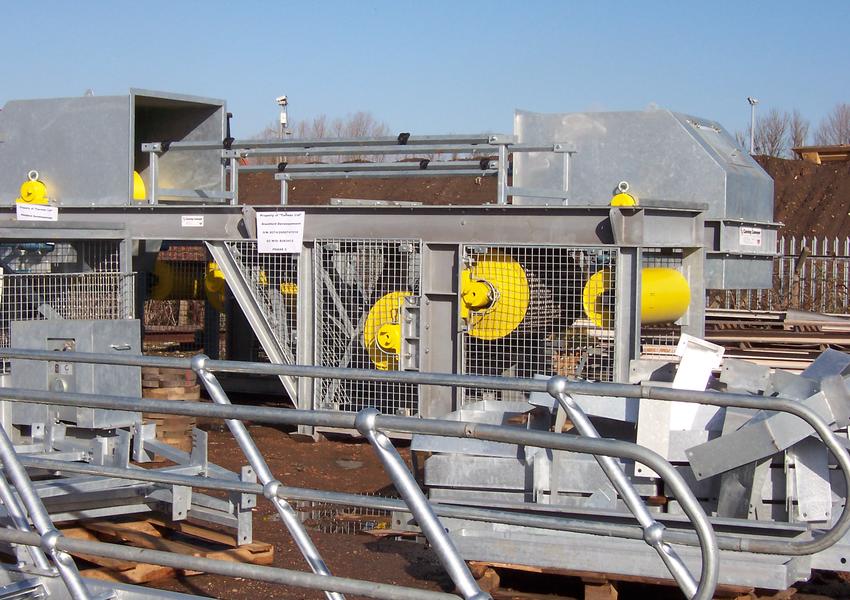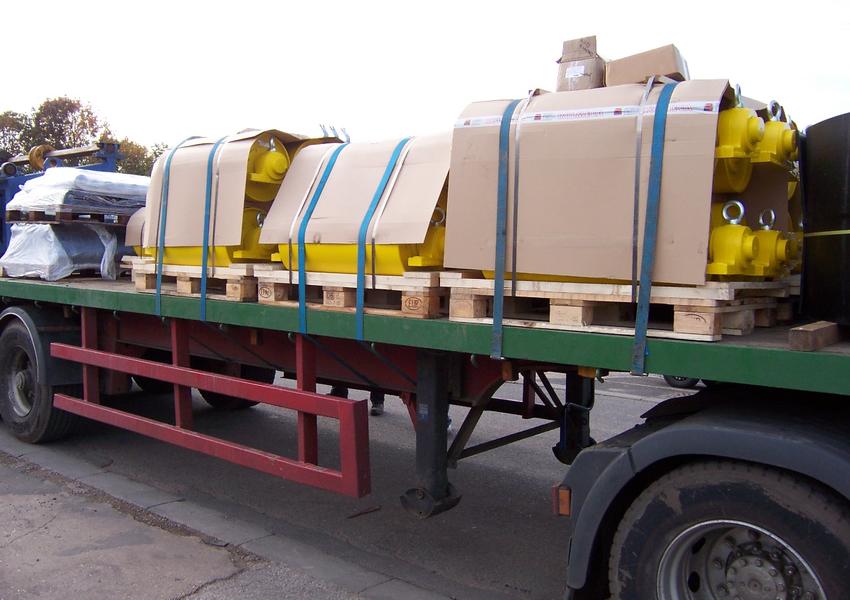 Technical Data
All SuperDrives are suitable for a power supply of 415V, 3ph, 50Hz, inclusive of terminal box and support brackets to suit, each fitted with a Thermal Protector and filled with synthetic oil as standard. All SuperDrives which are incorporated within our standard ground conveyor jib head units are ceramic lagged to suit. IP67 sealing.
Re-greasable labyrinth seals are available depending on material and site condition
Backstops, Brake shafts and labyrinth seals are available extras upon application.

Synthetic oil filled:
Every SuperDrive™ is supplied pre-filled with Synthetic Oil.

No maintenance is needed other than the recommended oil and oil seal change which is every 30,000 hours, compared to normal oil that has a service life of only 10,000 hours.

In other words, based on an 8-hour per day working week, the SuperDrive drum needs only one service approximately every 15 years!
Thermal Protection:
The client must ensure that the Thermal Protectors are connected on each SuperDrive™ unit, at the time that they are fitted/installed and prior to starting up.

If this is not done it would void product warranty.
Design, Installation & Maintenance Data:
We would provide information covering technical precautions, including electrical installation, motor current protection, motor Thermal protection, belt tension, start-up & frequency convertor details.
Regreasable Seals:
SuperDrive motorized drums are supplied with a IP66/67 rated sealing system as standard.

Where there is the added problem of extreme aggressive and abrasive dry dust, or, if it is in a wet form of sludge and, or in a hot environment, we would recommend that these seals are of our re-greasable type so they can be initially charged and then continuously purged around the seal area to keep it clear.

The best way of achieving this without constant maintenance is to fit a proprietary Automatic Grease-men system similar to that of Perma, which administers a measured time-lapse grease release. These must be used correctly and replaced in accordance with the Greasmen' manufacturers written instructions as failure to do so could result in damage to the seals and void the warranty.
Soft Starts & Invertors:
Care must be taken when selecting. Soft Starts can be used on low starting torque applications but where high starting torques of up to 200% motor rated torque, such as when starting under load, a suitable sized Soft Starter must be selected. If you are to arrange Soft Start mechanism then please contact your local specialist and ensure that it is rated higher than the quoted KW to enable start up under fully loaded conditions.

If this is not done, we cannot guarantee the conveyor will be able to start when fully loaded.

Invertors have many advantages against Soft Starts, such as matching belt speed to tonnage rate which gives longer life of motor and machine parts. If you are to arrange supply of an invertor to control the variable speed between 15 – 60 Hz then you may require a higher kilowatt rating as the power required is directly proportional to the Hz output.

Invertors are used as 'Master and follower' set-up, allowing a number of SuperDrive™ units to be set- up on the same conveyor.

The master drive dictates the speed and the followers are controlled using a torque setting ensuring exact load sharing.

We recommend having Invertors for each SuperDrive™ on all double drum drive units.
Features & Benefits:
Purpose built design
Total enclosure of motor, gearbox and bearings
Space saving design
Cost saving – fewer parts
Safest drivers available
Low purchasing & installation cost
Low maintenance cost – None, other than recommended synthetic oil change
Higher efficiency (97%) compared to conventional drives
Hermetically sealed to prevent contamination of conveyed materials
Thermal protection switches prevent overheating
Weight saving and evenly distributed saving costs on design & steelwork
Variable frequency converter
Low noise
Unprecedented 3-year warranty & guarantee
Full Life Cycle calculations could be done to provide a true reflection of long term benefits in specific environments
Related documents